IVTracer
is the software solution for environmental monitoring in the pharmaceutical industry, GMP certified.
IVTracer
allows the centralisation of measurements in order to harmonise the monitoring of a pharmaceutical plant
IVTracer
is a complete monitoring solution that guarantees the right manufacturing conditions and alerts users of deviations in real time.
IVTracer
can be accessed from any web browser to meet monitoring needs
in a simple and intuitive way.
IVTracer est la solution logicielle de monitoring environnemental en milieu pharmaceutique certifiée BPF/GMP qui permet de centraliser les mesures afin de garantir les bonnes conditions de fabrication et d'alerter les utilisateurs des déviations.
Accessible depuis tout navigateur web (connexion au réseau interne), l'ergonomie d'IVTracer a été étudiée pour répondre de manière simple et intuitive aux besoins de monitoring pour les industriels du secteur pharmaceutique.
IVTracer est une solution complète de monitoring qui offre une prise en main rapide et efficace.
21 CFR Part 11: Monitoring requirements
Compliant with GxP and 21 CFR part 11 requirements, IVTracer is the solution to improve the monitoring of environmental parameters to ensure the safety and integrity of critical GMP measures.

Particle counting

Temperature

Hygrometry

Air quality
Water quality

Pressure
An interface to monitor many sensors 
Our pharmaceutical application sectors
IVTracer is an EMS (Environmental Monitoring System) currently used by many manufacturers in the pharmaceutical sector, for applications such as the production of injectables, production of dry forms, packaging, research, production of active molecules and medical diagnosis. IVTracer can be integrated in the production, storage or laboratory context.

Comptage de particules

Qualité de l'air

Température
Qualité de l'eau

Hygrométrie

Pression

Pression

Hygrométrie
IVTracer : challenges of measurement traceability
The monitoring of critical environmental parameters is an indispensable aspect in the pharmaceutical industry and the medical field. Companies whose activities are subject to regulatory requirements have multiple needs:
To comply with regulatory requirements and standards such as ANSM (Annex 11), FDA (21 CFR part 11…) data integrity (ALCOA+)
To be able to comply with Good Manufacturing Practice (GMP) and Laboratory Practice (GLP) rules.
Protecting their most valuable raw materials
Ensure real-time non-contamination of production batches
Provide evidence of compliance in the event of an audit or disputes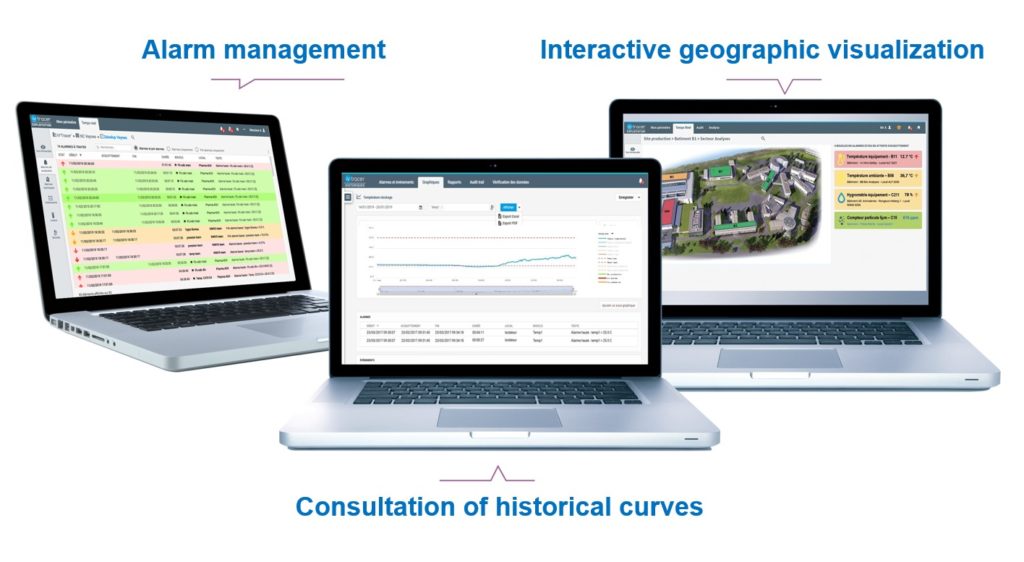 Our strategy based on expertise and innovation is at the heart of the IVTracer product, which since 1997 has made it possible to respond both to the problems of environmental control and to the challenges of technological evolution (ease of use, flexibility in the proposed architectures, integration of existing hardware, secure measurement / Data-Integrity, innovative concepts of industry 4.0 and compliance with the cybersecurity policy).
With a specialised team with a wide range of skills, the NetCeler team will support you throughout your project.
Since its creation IVTracer has been dedicated to environmental monitoring in clean rooms for major accounts in the pharmaceutical industry. 
Our clients trust us and allow us to provide a long-lasting solution. 
Find below our references: 
Years of experience in industrial monitoring projects
Measuring points collected with our IVTracer software
Dynamic employees with strong values of efficiency
Key advantages of the IVTracer solution